Install Drupal book on Coda
Submitted by

Seb

on 25/08/2010 - 23:27
If like me, you are on a Mac and develop under Coda (software that I recommend by the way), here is a little tip that will surely help you. As you may have noticed, Coda has an integrated documentation of PHP language, but this one is offline. OK, it's cool, but we, Drupal developers would prefer to have API under the hook... 
Wish exauced ! 
How to ? How to :
Open Coda if not already > Click on Books in display modes toobar
Click on the bottom left "+"
The fill in the form 
Book title: Drupal 6 API
Book URL: http://drupalcontrib.org/
Use for Mode: PHP-HTML
Search URL: http://drupalcontrib.org/api/search/6/*

and for the Cover image I found this one pretty: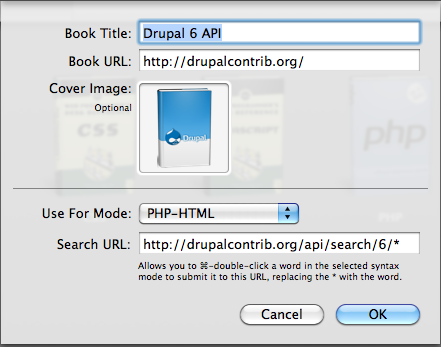 Now where it gets interesting, it's that you can use a hotkey to open directly your book on a function: 
 + double click. Furthermore, you can search on external sites which provide documentation for third-party modules, like drupalcontrib.
This tip is possible for others languages and frameworks, like jQuery :
URL: http://docs.jquery.com/Main_Page
Search URL: http://docs.jquery.com/Special:Search?ns0=1&search=*&go=
Add yours in comments !